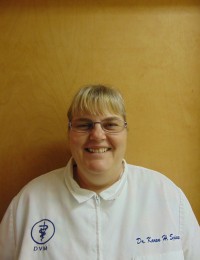 Veterinarian Owner Operator
Dr. Karen is the owner and operator of Mountaintop Animal Hospital. She received her Bachelor of Science degree in biology with a minor in microbiology from Penn State Univerisity in 1993. She attended Ross University on the island of St. Kitts in the West Indies for her first 3 years of veterinary school. Her last year, the clinical year of veterinary school, was spent at Oklahoma State University and she received her Doctor of Veterinary Medicine degree from Ross University in January 1997. Dr. Karen worked at Greenville Veterinary Clinic in a mixed animal practice until October 1997.
She then relocated to the Wilkes-Barre area and worked for Wyoming Valley Veterinary Hospital for three and a half years before purchasing Mountaintop Animal Hospital in June 2001. Dr. Karen is a member of the American Veterinary Medical Association and the Pennsylvania Veterinary Medical Association.
Dr. Karen has been married to her husband, Joel, since 1999 and they have two beautiful daughters, Brianna and Morgan, a beagle, Crystal, and two cats, Dora and Bob at home. The hospital's two office cats, Smokey and Boo Boo, were both rescued from her father's dairy farm. Dr. Karen enjoys spending time with her family and friends, camping. Dr. Karen and her family are also active members in their church.